First version (radio first performance 1949)
performances of the stage version 1951 – 1961
Last version (1972) first performed 11.11.2018
What is the importance of civil courage today? And what is the connection between the Apokalypse, Democracy, Jazz, Ecology, Armistice one hundred years ago and our presence today? The answer gave the first performance, a film of 1958 and Plant- for-the –Planet on 11th November 2018 in the Herkulessaal in Munich.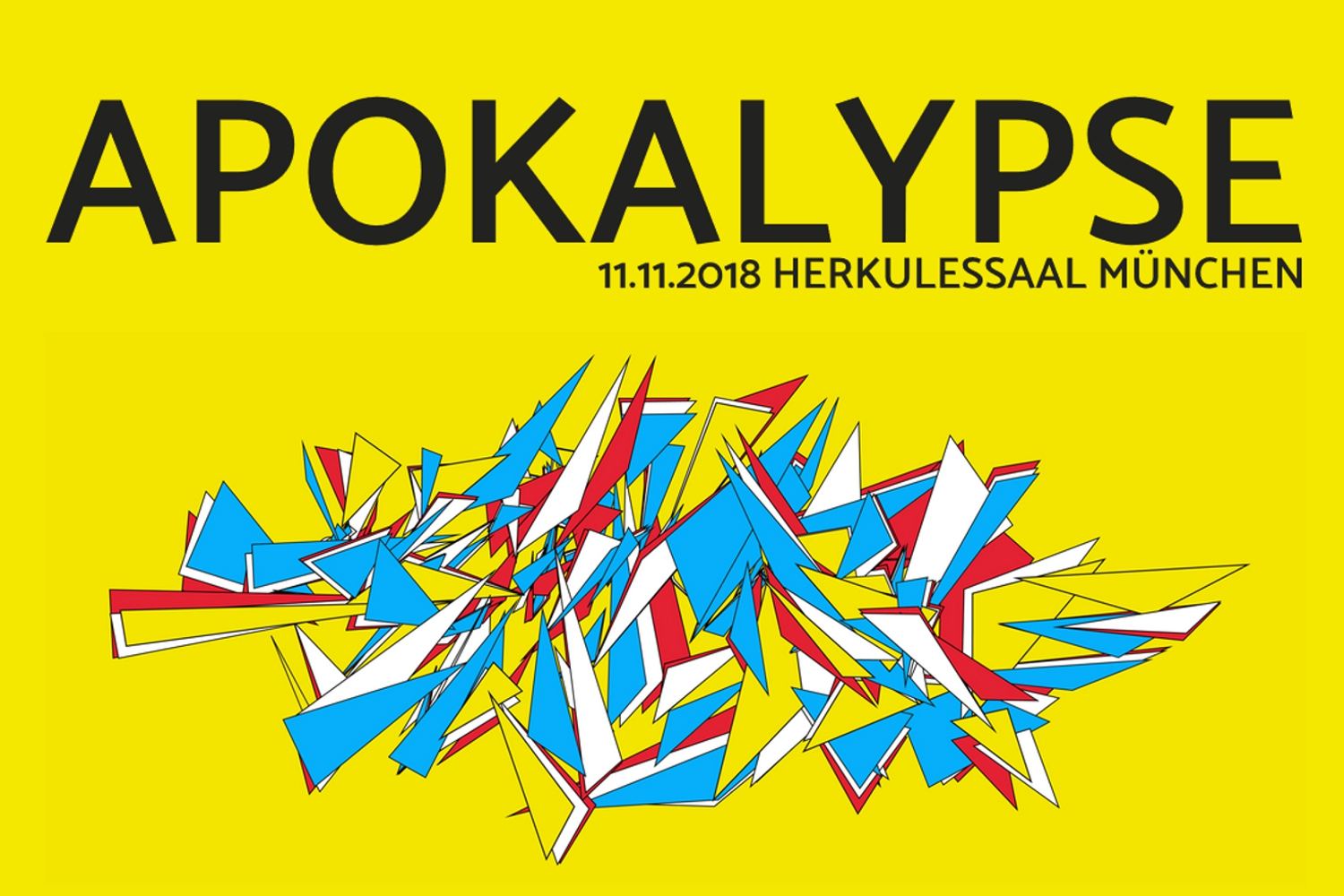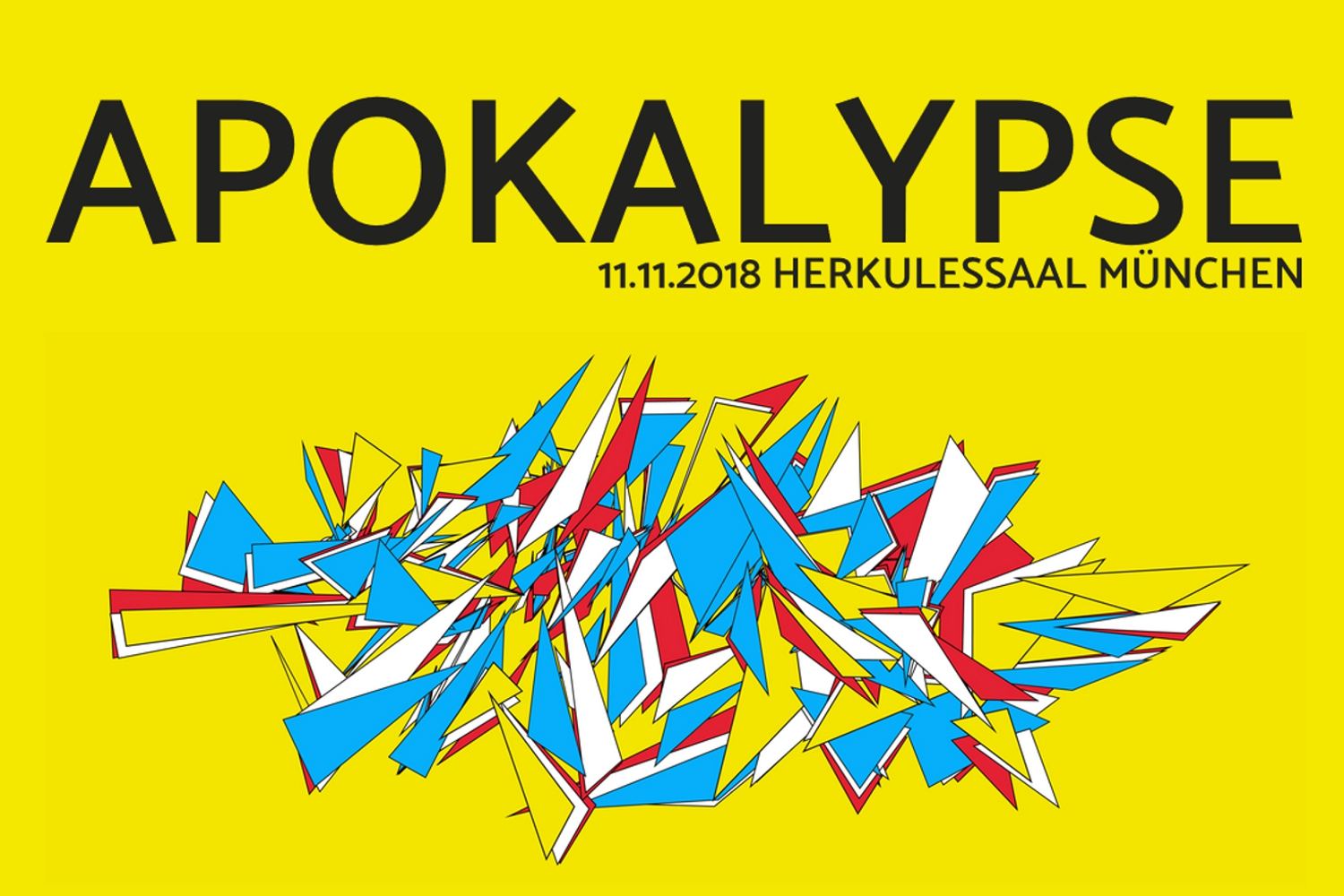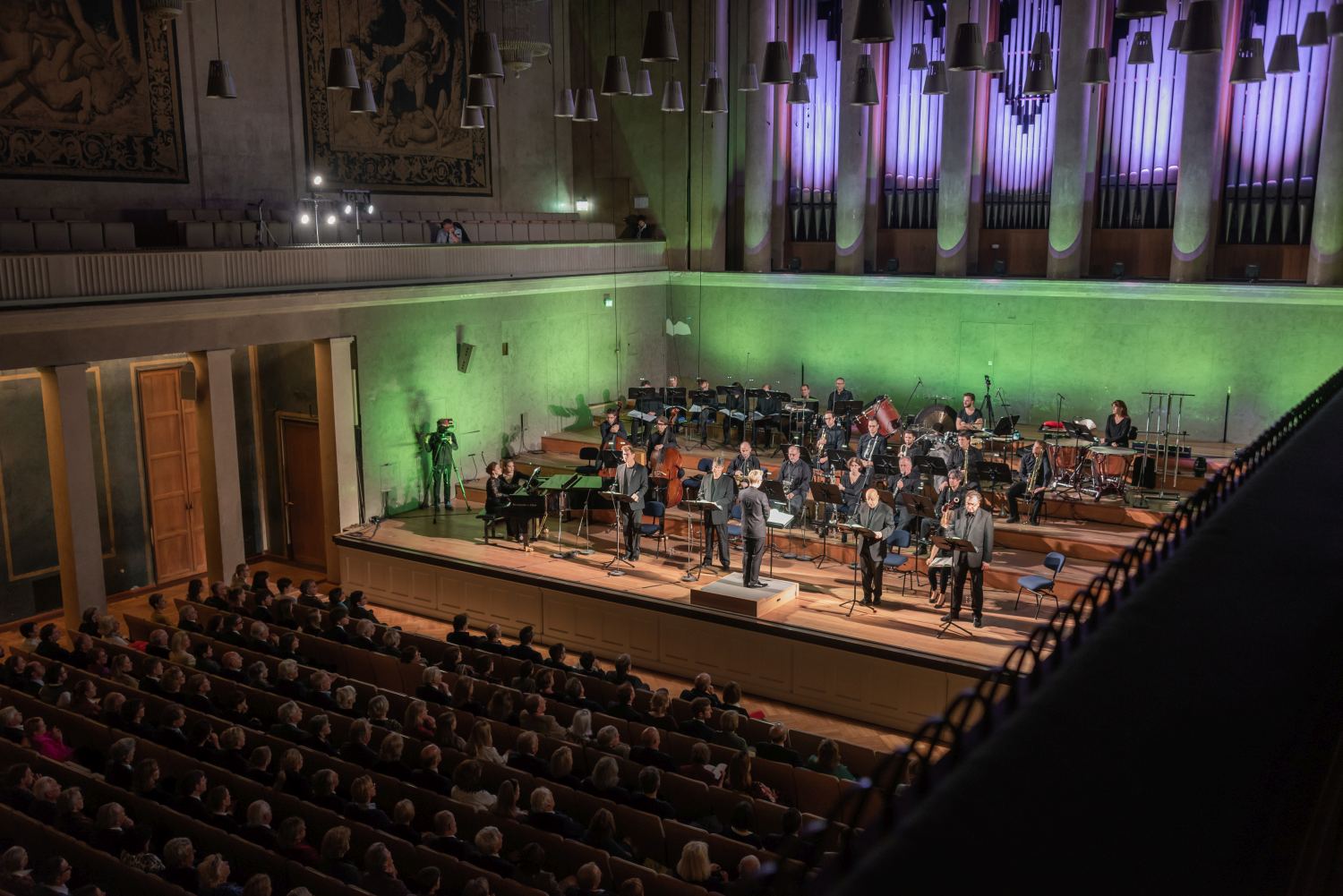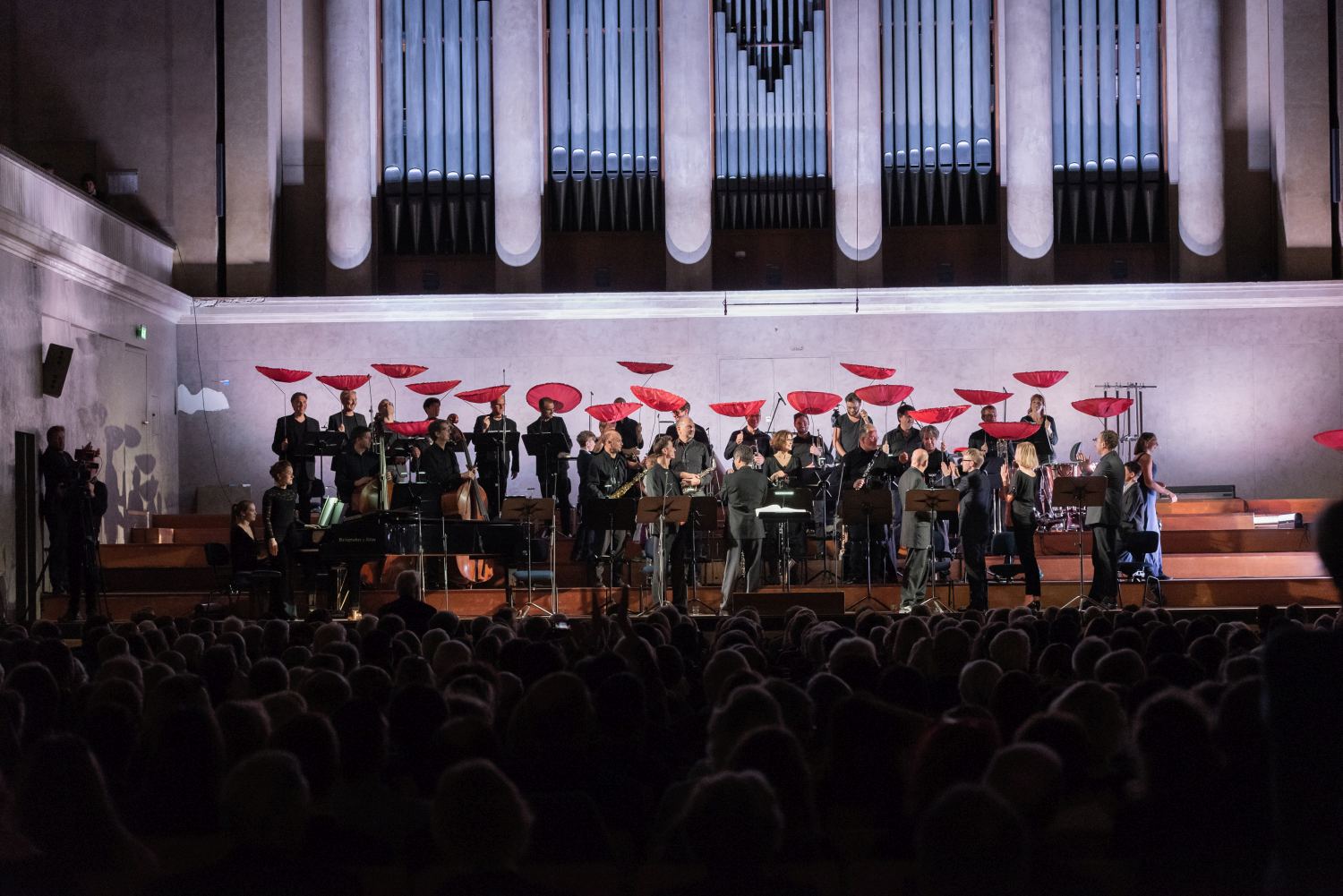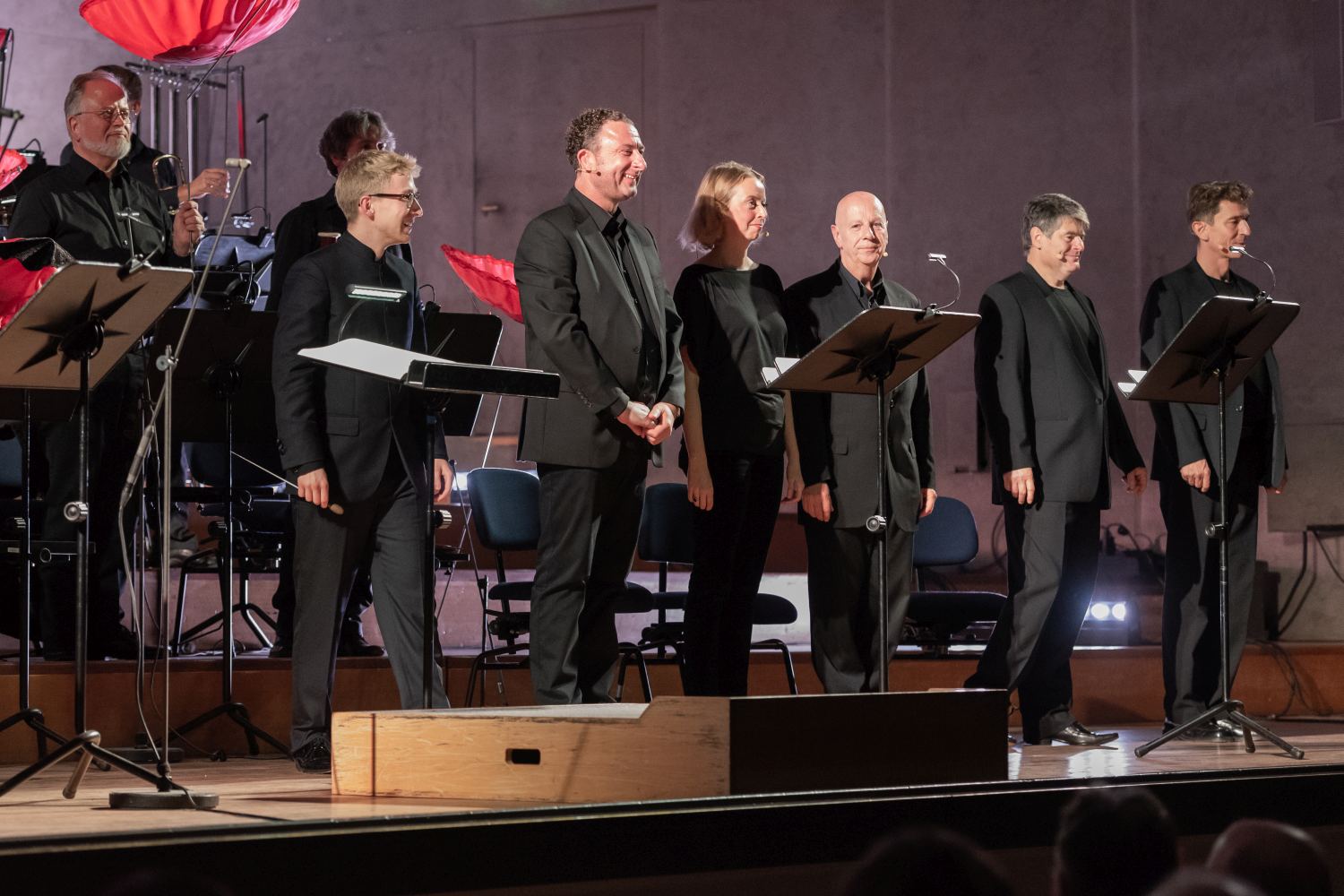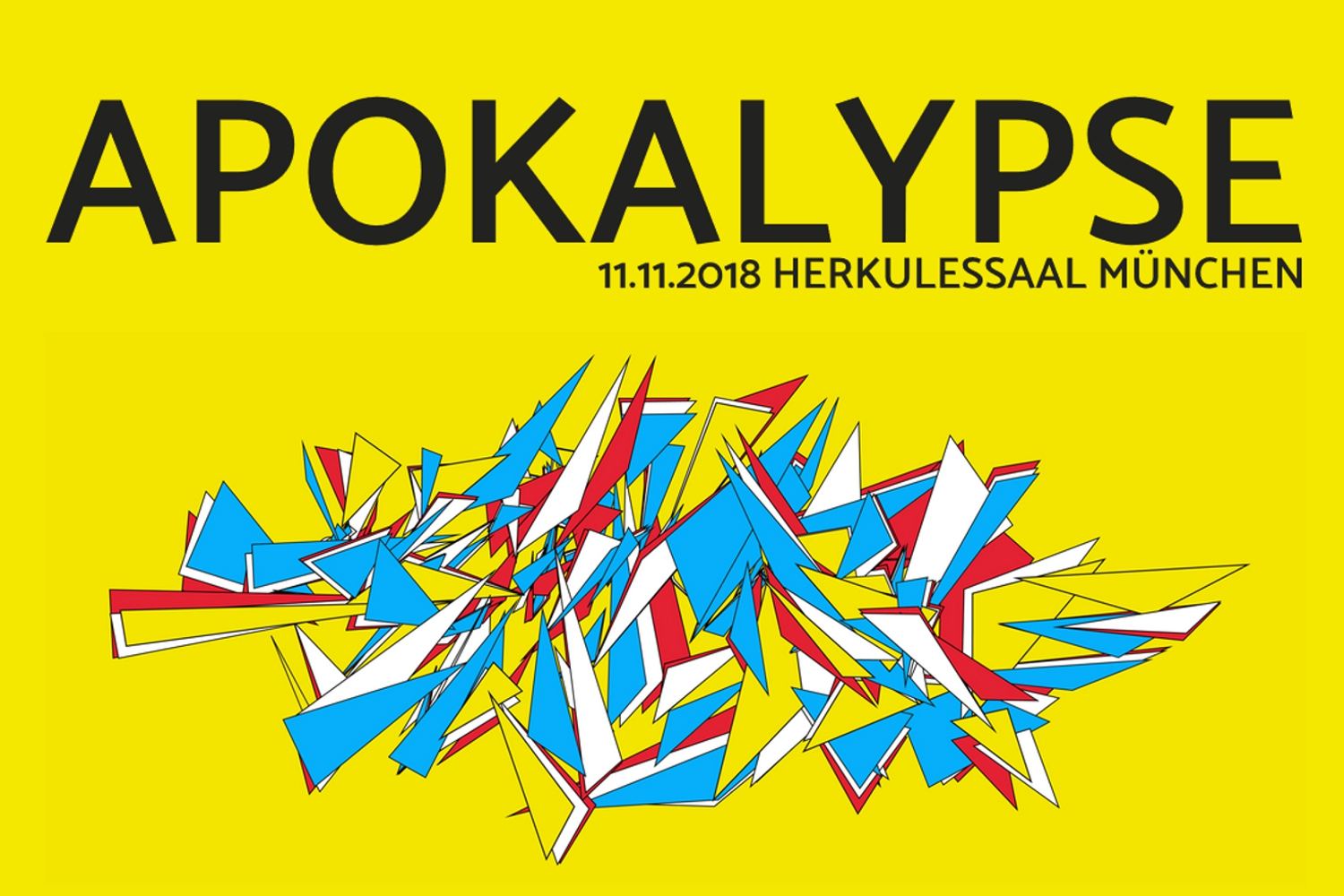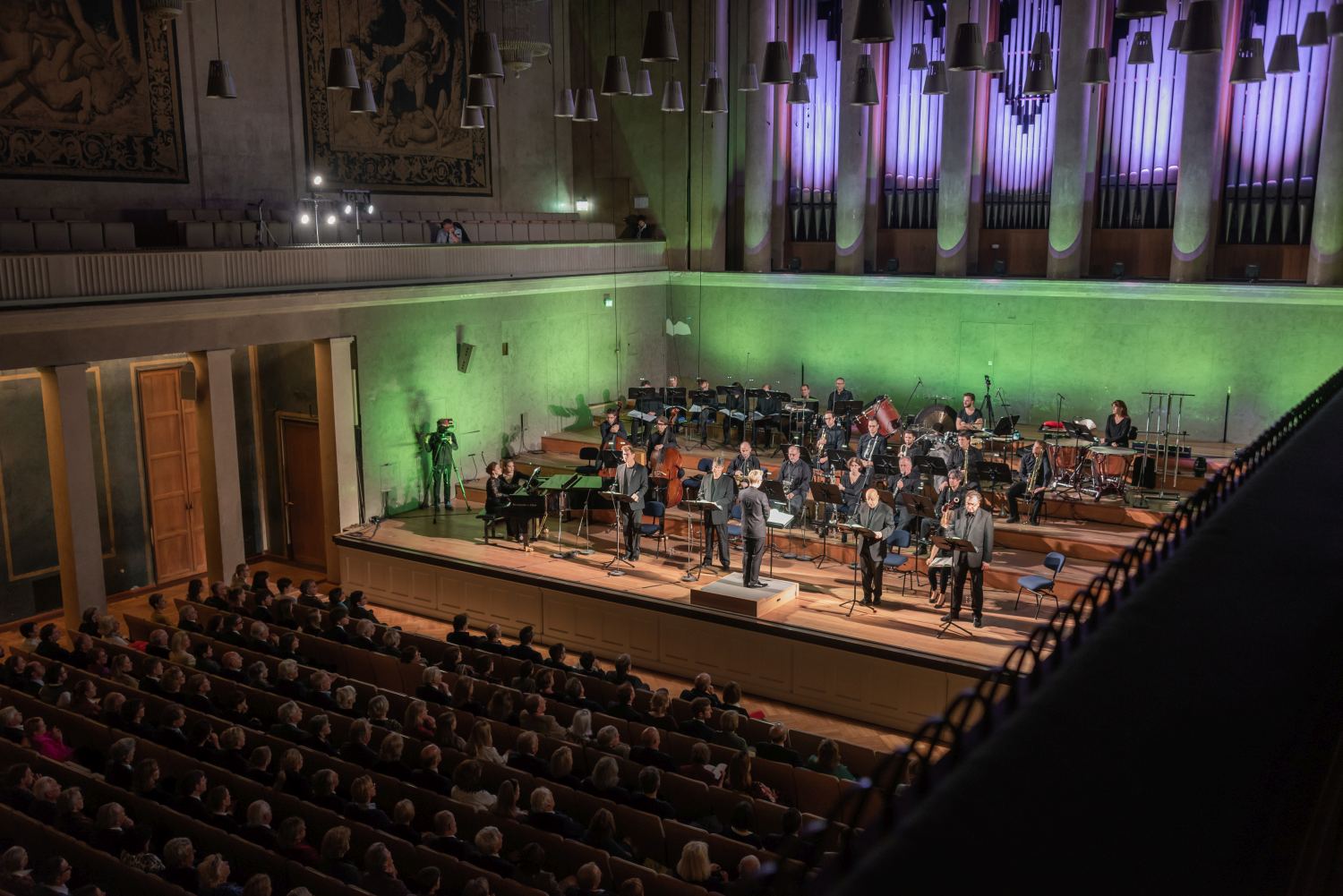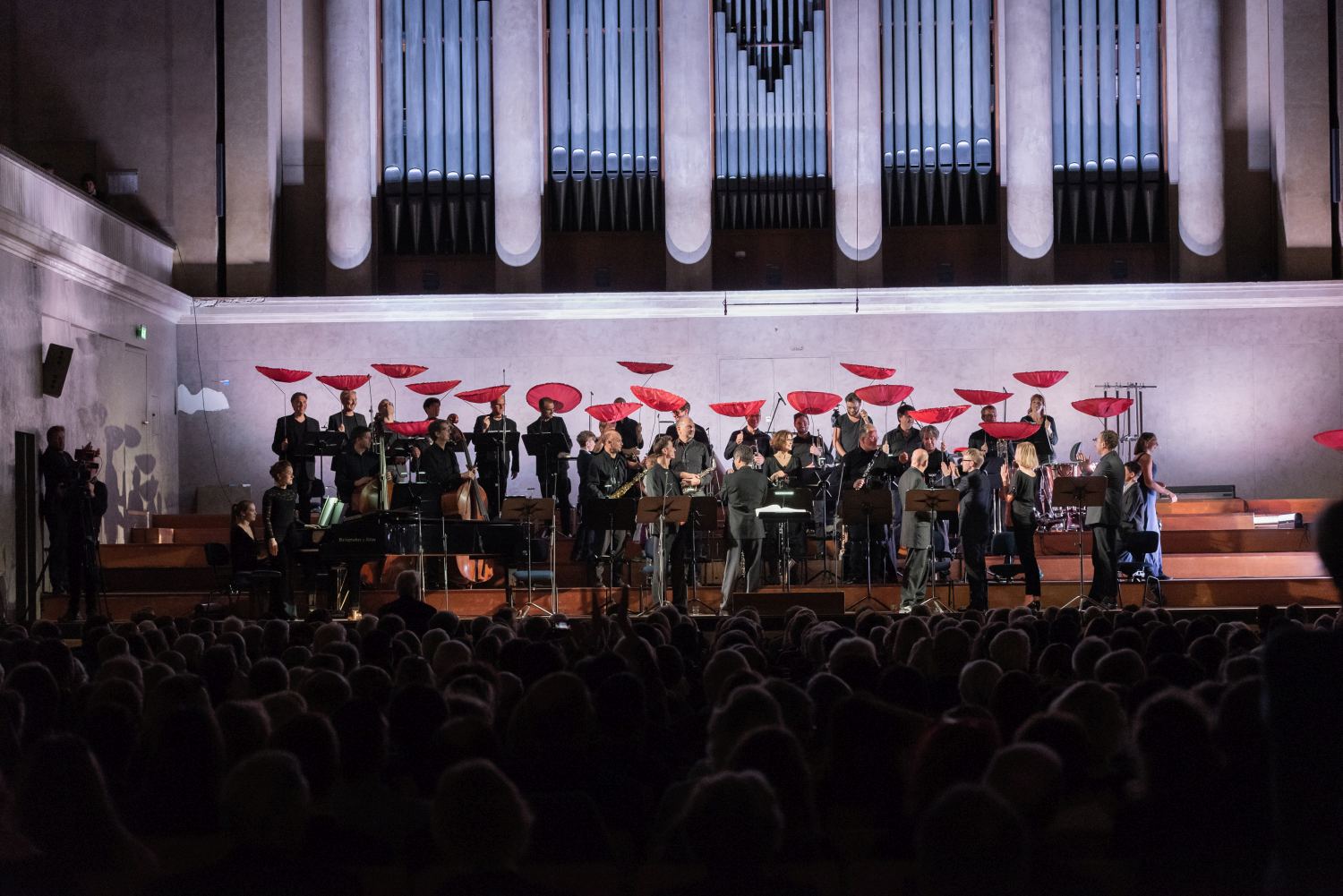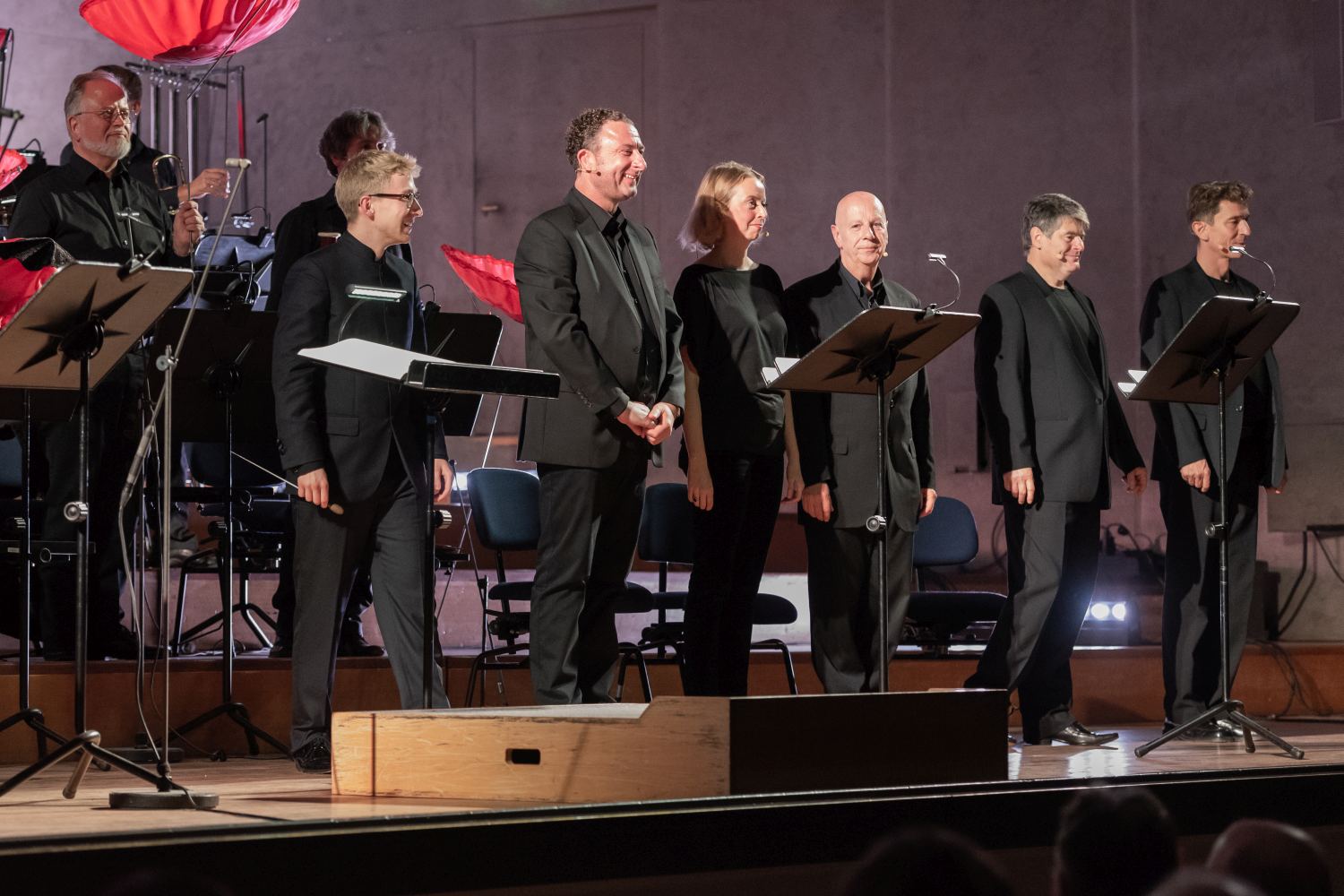 First Performance, 11.11.2018 • 100 YearsArmistice
Program
The short art film "apocalypse" (1955), GisbertHinke
PresentationbyFrithjofFinkbeiner (COE "Plant-for-the-Planet" Foundation) and Benedikt Eder (enbassadorof "Plant-for-the-Planet"); Patron: Felix Finkbeiner
Interval
Jazz-Cantata "Apokalypse" (1972), Karl Feilitzsch
Audio-Data of the main work "Apokalypse"
1972 version (Herkulessaal, Munich, 11.11.2018)
Letter from Margarete Adler-Koerber – Director – to  the Producer
'Leaving us a work with the title "Apocalypse", the composer made a unique decision.
With his selection of the biblical text, the composer struck a chord particularly in connection with our depleted and partly poisoned environment which also poisons us (Glyhosat amongst other chemicals and plastics). This text awakens  usto think every day afresh about the Creation: the earth, mankind, fauna, flora, air, water, nutrition etc. His compositional thoughts and musical abilities were particularly outstanding in the years after 1945. During the NS-regime, marches were the preferred music of the grandees who were deeply destructive also in the world of the arts through their campaign against "entartete Kunst. Jazz, originally an afro-american development which kept a lot of its origin, was for your father very much because of this serious originality a true post-war alternative to the Germanic Nazi marches and war tunes. Being part of the compositional developments in the Europe and America after WWII, he worked and re-worked the "Apokalypse" in his second creative phase until 1970s. Thus he created a very unusual, modern style which was also spontaneous and should be admired.
My I add that I received calls from many colleagues and other visitors of the concert who expressed their enthusiasm for the whole evening. All of them work in the art world.'
Letter from Margarete Adler-Koerber – Director – to Stefan Wilkening, the lead
'Dear Mr. Wilkening,
It was always clear to me that only you would find the necessary subtlety of performance, musicality, deep knowledge and implicit seriousness with unparalleled timbre. And now, after the event, I would like to exclaim: you performed these texts with all your facetts extraordinarily well. Your rhythmic details as well as forming of the words. And I experienced due to you, all the texts of St. John and their old Lutheran translation anew, deeply moved.
I also knew that you would enjoy particularly this text in combination with the both german-heavy and modern "Jazz"- music. How very lucky that you had a gap on the 11.11.2018 in your tight schedule.'
Christophe Gördes – Clarinetist and Director Kammeroper München – email to the Producer
Thank you for this extraordinary and special evening! I just met colleagues from the Munich Radio Orchestra (Münchner Rundfunkorchester) who had taken part. Absolutely all of them were enthusiastic! I hope this project lives on… Such a pity that Ulf Schirmer did not develop any interest to include the "Apokalypse" in the series of ""Paradisi Gloria" concerts, it would suit perfectly… All musicians also praised Patrick Hahn; I thought he was amazing!
Went today to the stage rehearsal of Karl Feillitzschs "Apokalypse" from the mid 1950s for 2 singers, speaker, small male choir and Jazz ensemble. With, amongs others, conductor Patrick Hahn, singers Christian Rieger, Jürgen Sacher and the speakers Jürgen Wilkening, Christopher Robson and Elna Lindgens….A strange musical work between BRD-Jazz, Funkopera, Cantata, Synodiality, moderate contemporary music, proto-green. One thinks also of Brecht/Hindemith, K.A. Hartmann, Orff and in traces of .A.Zimmermann/Schoof. A fascinating document.'
Alexander Strauch – Composer – Twitter
'…it was and is a great provoledge for me to participate in YOUR (as you made all the connections) Apokalypse. What luck that Nino's husband (Milan Siljanow) could not sing this partJ….The Jazz passages (the piano part could have been in this version a little more risqué)remind me a little of the paintings by Hieronymus Bosch. For me, the most impressive were the recurring chorales in the "Auslaufen der letzten Tage" (the running out of the last days). During the first rehearsals, I thought Patrick Hahn was too slow; however it proved to be a wise decision to see these as eternity and lead them to the final Amen.
My parents were fascinated, one of my friends considered it without tension, another thoughtful and disturbing at the same time – all of them had been completely alert throughout!
And as I am thinking, I realize that the beginning sounds rather stoned due to the wavering saxophone. St. John, or whoever might have written the text,  must have been in a drugged-like ecstasy. Who dares to write such an introduction!'…
Christian Rieger – Bass-Bariton Bayer. Staatsoper Munich
Und ich muss Ihnen gestehen, dass dieses Projekt mir richtig ans Herz gewachsen ist! Als ich mit der Arbeit daran begann, war es für mich einfach ein Projekt und eine große Herausforderung, die auch viel Fleiß erforderte! Aber während der intensiven Proben mit Nino, Margarethe Adler und dann Patrick, wurde mir immer klarer, dass dies etwas Besonderes ist! Diese Kompositionen hat einen Sog, der mich hineingezogen hat! Und so war dann die Performance auch für mich ein Geschenk! Ich bin jedenfalls dankbar für die Begegnung mit diesem Werk!
Stefan Wilkening – Lead Speeaker
It was a super concert, and a wonderful event all round. I enjoyed getting to know "Apokalypse" so much better in those last couple of weeks leading up to the performance. How different it is when one hears it played and sung so well. It is very challenging music to perform but such fun to be a part of, especially with such wonderful musicians and loveable colleagues. And that young man Patrick – what a talent, what a complete star! As I get older I am increasingly amazed by the wealth of brilliant and talented young musicians surrounding us, but Patrick is very special. I envy him!
I had a lot of friends at the performance, and all of them remarked on how relevant and contemporary "Apokalypse" feels today. My landlady, Diemut Kuebart (who is 95 years old) was very moved by the whole evening, and said that the end gave her a wonderful sense of hope and optimism. Although she is not very religious (she leans very strongly towards Humanism) she remarked that the text is often misrepresented as a totally doom and gloom thing, full of horror. She understood in it the offer of love and redemption, and a new beginning that brings hope and joy to the world. I was sorry she couldn't come to the Brenner for dinner in the end (she knows from experience that her hearing aid would not be able to cope with the noise), but I am so happy that she left the concert feeling so rewarded. My two friends who did come to dinner with me were also touched by the performance, mentioning particularly about how the tension of the piece was so great that the last few minutes felt like a wonderful release.
Christopher Robson – Counter Temor Kammersänger d. Bayer. Staatsoper
Audio-Data of the "Apokalypse"
1949 version
Video-Audio-Data of the "Apokalypse", 1972 version
Herkulessaal, Munich, 11.11.2018
Karl Feilitzsch notes on the first performance of his Apokalypse,
Radio broadcast 1949 (BR archive 1.8.1949)
Note to the First Performance of the "Apokalypse"
During the past months, the composer Karl Feilitzsch played his cantata "Apokalypse" several times to his inner circle of friends. These performances created a very strong impressions which led the Bavaria Radio Station (BR) to present this unusual work for discussion in his "Nachtstudio"-series. Herr von Feilitzsch conveyed to us an introduction which we publish herewith:
"My cantata "Apokalypse" contains rhythmical as well instrumental means of expression which are all based on Jazz music. I believe that this does not lead to a contradiction between form and content, between the words of the Bible and its musical interpretation. I would like to point out that at all times art-music (Kunstmusik) with its rhythmical and melodic versions was based on contemporary forms of dance. Bach's whole oeuvre is permeated by the rhythmical impulses of the Courante, Sarabande, Gigue, etc. In Mozarts chamber music one can find whole Adagio sets which reflect the the tenor of slow Menuetts, Schubert melodicsare often enriched by the melody type of the Waltz and the Ländler; the music of Brahms cannot be imagined without the influence of the Hungarian country music; I firmly believe that our contemporary music will be based on contemporary forms of dance. They will be found – I cannot deny it – first and foremost in Jazz.
Jazz somehow designs music which interprets our times. It will be the task of the modern classic music to incorporate Jazz into its compositions which are based on the stylistic language of the past centuries.
I see my "Apokalypse" as such an attempt.
The Bayerische Rundfunk broadcasts the first performance of the "Apokalypse" on Friday, 2nd September at 10.45pm.
Apokalypse, radio broadcast 2.9.1949
In his "Apokalypse", Karl Feilitzsch is looking for new ways of expression with passionate seriousness. He endeavors to combine the biblical texts with the most modern musical forms of expression with elements of Jazz, in particular with the effects of the drums. He understands the magic of ostinato repetitions, which actually are particularly suitable for the radio format.
(H.Grohe, Die Radiowelt 25.9.1949)
Apokalypse, First Performance Stage Version 1951
("Uraufführungsbühne", Brunnenhof, Residenz, Munich)
Nobody in Europe ever experienced something like this: words from the Bible, fragments of the Revelation of St. John, spoken, sung to the tunes of a Jazz band. At first, something snobby, blasphemic was expected – but one left the "Brunnenhoftheater" in the ruins of the Munich Residenz deeply stimulated.  With greatest earnestness was this project produced on this most basic stage…
(H. Rede, Hamburger Echo, Bremer Nachrichten, Rhein Neckar Zeitung)
"A brave experiment!"  It is already something when this performance achieved to create a great experience for a modern theatre audience by bringing on stage the extraordinary phantasy of St. Johns Revelation.  And there could not have been any doubt: the several hundred intellectually interested people who applauded this outstanding performance of the "MünchnerUraufführungsbühne", thanked the whole cast and in particular Karl von Feilitzsch and Albert Hoermann time and again enthusiastically. Everybody felt to have been part of a great event.
(Die "Neue Zeitung", 23.10.1951 – todays Süddeutsche Zeitung)
"Jazz – apocalyptic – the audience said "Yes", I said "No" and I disapprove most profusely the Apocalypse as a cabaret (Schaubude) sensation."
Letter to the editor "NeueZeitung" (Graf Kalkreuth)
"How daring toban into music the pictoresque language and power of the religious statement of the Relevation"…." Extraordinary and mysterious"…, "this performance under the direction of the composer himself, was unusually concise and penetrating" …" a feeling of the world for the modern man"
(Abendblatt, Münchner Merkur, Bayerischer Rundfunk (lifebroadcast) and Neue Zeitung)
Mischa Spoliansky, acomposer in London, wrote in a letter to Karl Feilitzsch, he had not experienced anything as powerful in years.
(Feilitzsch Archive)